The world no longer gets to see as much of Bruce Willis as it would probably like following his aphasia diagnosis.
The iconic actor remains one of the most recognizable celebrities in the world, but the huge change that took place in his life recently is undeniable.
Willis and wife Emma Heming tied the knot back in 2009, but by all accounts they're still every bit as head over heels for one another as they were when they married.
The most recent video the pair posted is made all the more heartwarming given the fact that Willis's appearances are few and far between since his diagnosis, and fans everywhere are coming to the same conclusion …
Willis confirmed his retirement from acting last year due to aphasia, a degenerative brain disease that affects speech and communication. The beloved actor is now cared for by his family, predominantly his wife.
The last few months have been hard on the Willis family after the 67-year-old's diagnosis was confirmed, but it also pushed them closer together, with Bruce and Emma selling their home in Westchester, New York, in order to move to California.
According to reports, it seems as though Willis isn't leaving the house much – instead, he's "trapped" in his own mind.
View this post on Instagram
He and Heming have been together now since 2007, having first met at the Sundance Film Festival.
"When we first met, I was surprised at how charming and how funny he was," Emma said. "And extremely handsome."
The two share two daughters together, Evelyn and Mabel.
These days, Bruce has understandably taken a step back from the limelight, though his legions of fans remain many. As a result, there's a serious buzz whenever he does post an update or opens a brief window into his life.
View this post on Instagram
At the weekend, Emma shared a video to her Instagram page that managed to break hearts all over the world. In the clip, Willis and Emma are holding hands with one another, while Adore You, by Harry Styles, plays in the background.
The video, though admittedly short and sweet, was enough to prompt a fresh outpouring of support for Willis, who many can only sympathize with.
Shortly after his retirement announcement, Emma said they were growing stronger as a family unit.
"We are moving through this as a strong family unit," she explained.
"As Bruce always says, 'Live it up' and together we plan to do just that."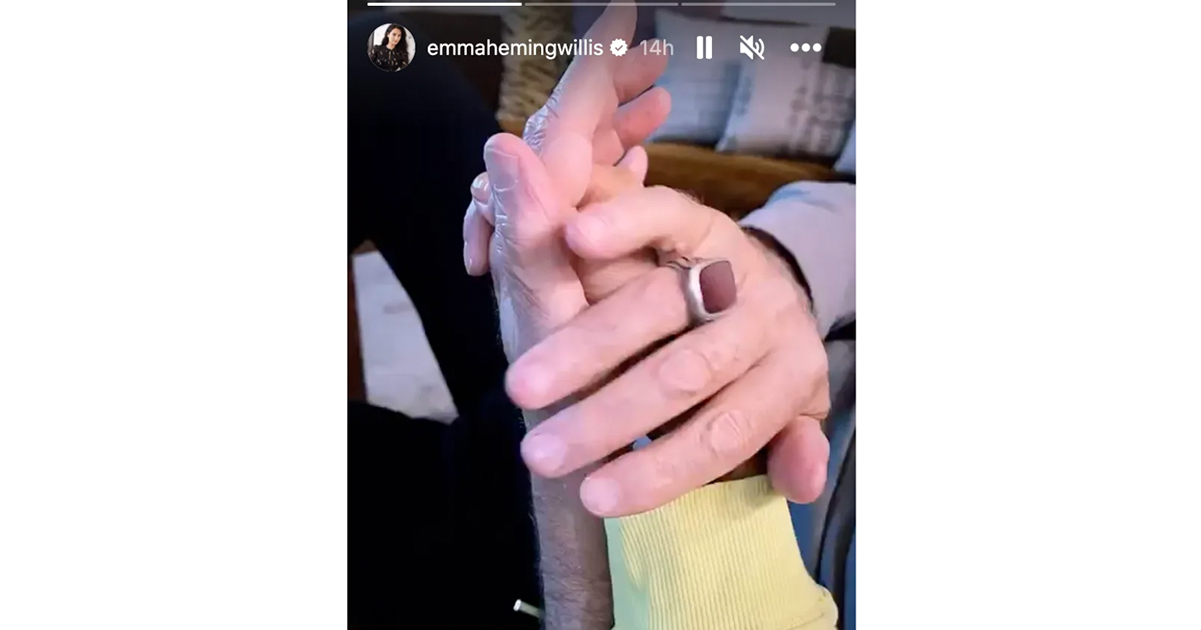 Though word of Bruce's retirement from acting is sad given the circumstances, the shift to his new life has also given him more time to be with his family.
The announcement of his withdrawal from the spotlight was made on March 22 last year. Since then, he's enjoyed long spells with Emma and their twins, Evelyn and Mabel, as well as participated in dance parties and birthday celebrations.
I for one hope Bruce Willis is enjoying his retirement – and the subsequent family time it brings – to the best of his ability.
Share this article on Facebook if you, too, hope he's doing well.